THE KID FROM PARIS 
JEAN BRASSARD SINGS YVES MONTAND 
LONDON HIGHLIGHTS 2013 
London's Crazy Coqs, 2013 
"Jean Brassard oozing Gallic charm (…) The personable young man has a lyrical and virile singing voice in the best French tradition, smoothly melodic while alternately playful and seductive." 
more at… London's Classical Source
"Brassard's homage to Montand captures not just the spirit of the artist but the spirit of the age (…) Brassard [has a] bold delivery and not inconsiderable Gallic charm. (…) The Kid From Paris introduces Brassard to a flourishing London cabaret scene, from which he will hopefully no longer be a stranger." 
more at… The Stage.co.uk 
FULL REVIEWS 
TRIAD THEATER, FALL 2012 
BISTRO AWARDS 
(Received 2012 Bistro Award for Outstanding Tribute) 
by Elizabeth Ahlfors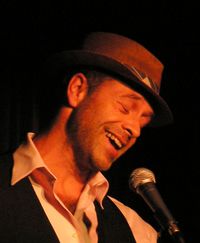 Tributes can be a risky business. Of course, we've seen tribute shows that were carelessly sloughed off with a song list and dates. Serious artists, however, should delve through books, recordings, memoirs, available interviews to develop a personal empathy for the subject, appreciate the unique qualities, and prove why the subject is worth this respect, time and effort. Hopefully, the audience will feel and share the performer's passion. Paying tribute to Yves Montand, Jean Brassard took the risk in his joyful show"The Kid from Paris," and he pulled it off with charm and his own artistry. 
Montand was a complex person with multilayered interests and talents. He was a tall, graceful song-and- dance man with a distinguishable voice and irresistible charisma, a fierce lifelong political activist, a vibrant actor ("The Wages of Fear," "Z," "Jean de Florette") that earned him international recognition as well as acclamation by the Film Society of Lincoln Center at Avery Fisher Hall. He was also an incurable romantic. 
In this small theater piece, Brassard, a talented singer, graceful dancer and mime, conveyed all these sides of Montand, who was known as the working man's entertainer. Wearing a white shirt, suspenders, black vest, pants, and various caps, Brassard showed off his confident baritone vocal tone, similar to Montand, whose songs about Paris, like "Sous le Ciel de Paris" ("Under Paris Skies") by Jean Dréjac and Hubert Giraud, became classics. In "Grands Boulevards" by Jacques Plante and Norbert Glanzberg, Brassard evoked Parisian street sights and people, and the spirit of the French music halls and theatres where Montand performed, with humor and smooth, teasing sex appeal. Brassard's facile physical expressiveness ignited the lush sensuality of "Sanguine" ("Blood Orange"), and no literal translation was needed for "Les Cireures de Souliers de Broadway" ("The Shoeshine Boys of Broadway"), both songs written by Jacques Prévert and Henri Crolla. 
A natural raconteur, Brassard remembered his family home in Québec, where his father would pick up the accordion and play favorites like the nostalgic World War I song, "Dansons La Rose" ("Roses of Picardy") by Frederic Weatherly, Haydn Wood, Eddy Marnay. Brassard mimed his father asking his mother to dance, leading her around the room to the waltz melody, a bit slowly, a little bent, as an older gentleman would. It was a sweet moment. 
With his co-writer and director, David Krueger, Brassard chose songs and anecdotes to illuminate the half-century of Montand's career. Before World War II, Montand's family had fled Italy for Marseille. In his early career, Montand went to Paris where he met Édith Piaf, his mentor and lover, the woman who helped form his captivating stage presence. Brassard saluted the unpredictable Piaf with Jean Constantin and Norbert Glanzberg's jaunty "Mon Manège à Moi," ("You Make My Head Spin"). 
Brassard and Krueger translated "La Bicyclette" (Pierre Barouh, Francis Lai) and other French songs into English. Unlike many translations, they deliberately keep the intent of the songwriter. A good example, this translation by Krueger alone, was  "Les Feuilles Mortes" by Joseph Kosma, with French lyrics by Jacques Prévert. Johnny Mercer had written a popular English translation, "Autumn Leaves," that does not communicate the poignancy of Prévert's original lyrics. Krueger's version was stronger in bringing out the inevitable passages of life. 
Brassard included Sammy Cahn and Jimmy Van Heusen's "Incurably Romantic" from the film starring Montand and Marilyn Monroe, "Let's Make Love." Recalling the co-stars' duet, Brassard delivered both parts. Fortunately, he edged away from delivering a farcical stereotype of Monroe, displaying only a hint of her breathy sensuality. What he did make apparent was the evident chemistry between the two magnetic performers. 
While there is still a coterie of fans who remember him, Yves Montand did not leave behind the gigantic adoring legacy of Édith Piaf. He was, however, a memorable and skilled performer with singular charisma. "The Kid From Paris" recaptures the romance and milieu of Montand's Paris years. Adding to the ambiance were musical director Richard Maheux on keyboards, Scott Richie on bass, and Ben Cliness on percussion. 
CABARET SCENES 
by Alix Cohen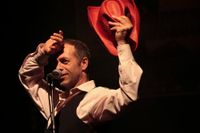 Iconic entertainers Charles Trenet, Jacques Brel, Charles Aznavour, and Yves Montand share the roots of French music hall, the style of a mostly rakish flâneur and the ability to communicate both the unfussy, heartfelt emotion of a working man and that of an urbane insouciant. Québécois, Jean Brassard evidences all these attributes. From his first breezy saunter across the stage, bowler and shoulders perfectly tilted, hips in fluid musical accord, eyes twinkling with "La Chansonnette"/"The Little Song" (Jean Drajac/Philipe Gerard), to the touching  "Dansons la rose" ("Roses of Picardy") (Haydn Wood/F. E. Wheatherly/ Eddy Marnay) illustrated with a story about his own parents, Brassard is effortlessly engaging. 
The Kid from Paris is the history of the multifaceted Italian/French Ivo Livi—professional name, Yves Montand, as told in English and sung in English and French. Brassard's choice seems to stem not only from the quality and range of material associated with Montand, but also from admiration for the man's character. Early on, we're affectionately told the celebrant "wanted to be a cowboy and.. was tall like an asparagus." His story progresses through unfavorable politics, discovery by Piaf in 1944, marriage to Simone Signoret, the affair with Marilyn Monroe "…given the moment, had you been the Frenchman du jour or America's darling, mightn't you have behaved like two neighbors in need?" and, of course, his oeuvre. 
Brassard's vocals flow easily through a full range of material. The always lovely "Sous Le Ciel de Paris"/"Under the Paris Sky" (Jean Dréjac/Hubert Giraud; English lyric by Kim Gannon) is delivered as if standing on a bridge overlooking the Seine. One can see the city in his eyes. "Syracuse" (Bernard Dimey/Henri Salvador), which evokes black and white seaside dancehalls of Jean Gabin films, is elegantly contained from a chair at the side of the stage. The song is beautiful and pure; lilting piano melody, percussive brushes, the gentlest bass, a plaintive harmonica. "Before my youth is disappearing/Before my Springtimes part from me/I want to go see Syracuse now/And collect my souvernirs for Paree." Brassard's hands lay one atop the other, all focus on enactment. 
The youthful hope (and eminently Gallic resignation) of "La Bicyclette" ("The Bicycle") (Pierre Barouh/Francis Lai) is sensitive and exhilarating: "We were all in love with her/We were all growing wings/On our bicycle/On these small dirt roads…" A change of hats, the unbuttoning of a vest, rolling up shirt sleeves—these create just enough mood change for the character of each lyric and phase of Montand's life. Expressions of love range from the ardent "Sanguine" ("Blood Orange") (Jacques Prévert/Henri Crolla) with Brassard's strong recitative and strip-like extrication from his suspenders (eliciting steam from the audience,) to an effervescent "C'est si bon" ("It's So Good") (Andre Hornez/ Henri Betti; English lyrics by Jerry Seelen) prefaced by the pop of a top hat and performed with stylish, minimalistic dance steps. 
Brassard can act, sing, dance, and communicate. His polish is accessible, his charm infectious. The show is entertaining and informative, though it would be more successful with less uninterrupted French and some editing. The critic and lyricist Henri Contet said, "Yves made the mechanic at the top of the balcony believe that he could tap dance and sing his way up to the top and the CEO in the first row think of himself as the carefree mechanic who spends his Saturday nights at Luna Park!" Jean Brassard may have a lighter footprint than Montand, but his talent and showmanship hold their own in an inestimable tradition. 
Musical arrangements are rich, varied, and unexpectedly fresh, especially considering the classic material. Musicianship is very fine. 
NITE LIFE EXCHANGE 
by Jan Wallman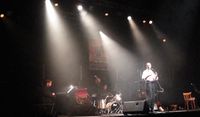 The Kid From Paris – the Songs of Yves Montand, is really a theatre piece, (…) goes very fully into the life of Yves Montand, this incredble entertainer, showing us the 50 years of his musical performance life, against the backdrop of Paris in those exciting times, including his private life and his politics, delineated by Brassard, an equally incredible performer, who has every bit of the star quality of the artist he is reflecting. He is utterly amazing, a consummate talent. He is a singer, an actor, a song and dance man, a musician, a raconteur, a personality – and he's handsome, too. 
He has chosen excellent musicians (Musical Director, on keyboards, Richard Maheux, Scott Ritchie on bass and Ben Clines on percussion) to abet him. The stage at The Triad, and its fine lights and sound, are perfect for this show, as well as director David Krueger's brilliant use of the venue. You have two more chances to see the show in this run (Wednesday, November 23 and December 7). The concept is great and Brassard and company mine it for all it's worth. It is pure showmanship. 
TIMES SQUARE CHRONICLES 
by Susan Hasho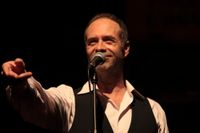 Jean Brassard's show at the Triad Theatre about the French singer/actor Yves Montand, called The Kid from Paris, was an eloquent, expert trip into the glories of French music and the life of one of its legends.  The sumptuous setting at the Triad was an additional asset. 
Jean Brassard has created a love letter with David Krueger, co-writer and director. He moves through the different phases of Montand's singing career with narrative and song. First music hall, his In the Plains of the Far West where he got the attention of the public, the sensual mature performance of Sanguine, jolie fruit, the political Casse-Tetes, ("I am dead. They have kicked me in the head. I am dead, please remember me."), through to the encore when Brassard plays his father's accordion simply, to sing the more accurate lyrics of Autumn Leaves written by Jacques Prevert, the new translation by David Krueger. 
It's not enough, however, to say that this is a tribute to Yves Montand without saying it is also Mr. Brassard's life connected through the telling of Yves Montand's story.  His father's love of music, his mother's love of Montand and his own circuitous route to creating this show come together in the end with a pantomimed dance with his mother that is sweet and true. 
Brassard's voice is in perfect sync with the material and his physical creation of Montand is graceful and powerful without any attempt at imitation. The musical part of the show is much stronger and more compelling than the narrative; I would wish that the story line was as natural as the performer. But I was drawn into a world I know little about and a man I only know as an actor, to find myself entertained and thrilled to be transported to a different sensibility and time with such charm and talent. 
GAY CITY NEWS 
by David Noh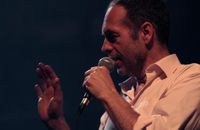 (…) I enjoyed Jean Brassard's Yves Montand tribute show, "The Kid From Paris," at the Triad. I first saw Brassard do this in 2005, and am overjoyed to report that the show, and his talents, have only gotten richer through the years. His mellifluous baritone sounds more like Montand than ever and, like his inspiration, he is a formidable showman, delighting a crowd that included Robert Cuccioli, Karen Akers,and Steve Ross. Brassard's rendition of "Sanguine" ("Blood Orange"), by Henri Crolla and France's great poet Jacques Prévert, oozed sensuality on translated lyrics. 
Brassard made the words ring sizzlingly true, proving how formidable an actor he is, just as he does in J.C. Khoury's delightfully funny, just-released indie film, "The Pill" (Quad Cinema, 34  W. 13th St.; quadcinema.com), where he hilariously plays the obnoxious French father of its wacky heroine. 
Noh subsequently awarded an AGGY 2011 for the show with this quote: 
Category: CONCERT/ CABARET 
Jean Brassard's evocation of the great Yves Montand, "The Kid from Paris," was enchantingly resonant. 
CACHE À MAXIME, Scott – Quebec, June 2011 
by Mélanie Létourneau 
Jean Brassard sings and tells the story of Yves Montand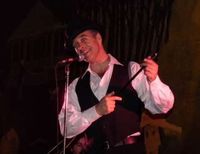 For the first of three shows, The Kid From Paris landed this last Thursday, June 16 at the Cache à Maxime in Scott. Surrounded by strong musicians, the Quebec-New York singer-actor Jean Brassard came to Beauce to offer this presentation of the life and career of singer-actor Yves Montand. 
Presented cabaret style, The Kid From Paris welcomed over thirty inconditional Montand lovers, underlining his era through his songs as much as the loves of his life, Edith Piaf and Simone Signoret. In this nearly two hour tribute, Jean Brassard revisited many of Montand's greatest hits while entertaining his audience with highlights from the singer's life, a true lover of music and women. Through his songs, narration and theatrical vignettes, Jean Brassard borrowed the "song and dance" style Montand was known for. 
A pleasing voyage through time 
Lovers of the music and the life of Yves Montand will be enchanted by Jean Brassard's performance. His warm voice, at times romantic, at times passionate will charm you just like the theatrical aspects of the show. Well anchored in his character Brassard will transport you to the Montand period and will give you a very good time. For those who, like myself, are not of the Montand generation or whose parents did not listen to his music, no need to be knowledgeable in the matter since Jean Brassard will make you discover this pioneer of French chanson, as if just between friends. 
ACTORS SHAKESPEARE COMPANY, NJ, FALL 2010 
NEW JERSEY ARTS MAVEN 
by Ruth Ross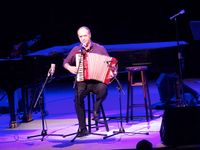 Did you have your heart set on going to Paris this summer, but your shrinking budget dictated a "staycation"? Well, don't despair. The folks at the Actors Shakespeare Company in Jersey City have found a way to bring a bit of Paris to you: The Kid from Paris: Jean Brassard Sings Montand, a celebration of the great French entertainer, performed by Jean Brassard, cabaret-style, at the theater on West Side Avenue, runs for just four more performances before closing September 19. 
You don't know much French, you sputter? You don't need to be fluent in that language to understand the songs made famous by Montand. Brassard, who hails from Québec and who speaks English and French, explains the meaning of most songs, while his wiry body English, fluid dance steps and expressive hands really sell the songs so well that you begin to think you've understood every word! "It's a show that flirts in two languages," Brassard says, with a sly Montand smile. 
So who was Yves Montand? He started off as "The Kid from Marseille," leaning out his window, watching an amateur show in the alley below and dreaming of becoming an American cowboy or a dancer like Fred Astaire. He was a fantastiste, a dreamer, a young man whose dreams would take him to Paris where he became a protegé/lover of the great chanteuse Edith Piaf, who helped develop his signature piece, "the sketch song," a song that told a story, which Montand sang and acted out at the same time. He was the quintessential bon vivant, who has perfected the art of aimlessly wandering the grand boulevards of Paris. He was an outspoken political performer who sang about Les Casse-Têtes, prisoners who were beaten by police during interrogation. 
And he conquered America too, appearing on The Dinah Shore Show in 1959 and on Broadway in An Evening with Yves Montand the same year. An incurable romantic, he acted in 58 films, most notably (for us) in Hollywood's Let's Make Love with Marilyn Monroe. When he died in 1991 at 70, he was planning a comeback in the tradition of the French music hall. 
But you really don't have to be familiar with the real Yves Montand. Brassard, beautifully accompanied by Richard Maheux (keyboards), Sean Dixon (percussion) and Masataka Okaka (bass and guitar), infuses the little black box theater with the Gallic spirit. I especially love the way he uses various hats to define the person/character Montand is portraying. From the red cowboy hat of his youth, to the black Homburg for the sketch song Ce Monsieru-Là, to the tweed cap of the Kid from Paris and the shiny top hat of the actor auditioning à la Fred Astaire—hats, les chapeaux, define Yves Montand! 
Brassard, like Montand, doesn't have a very strong voice, but he doesn't need one for the quiet songs favored by his hero. What he does have is the ability to interpret the song so well that we believe he is Montand, or the character in the song he's singing. His personal reminiscences of his own mother and father are charming and sweet. David Krueger's direction is steady and deft, and Paul Hudson's atmospheric lighting smoothly moves the audience's attention from place to place as the scene changes. 
Engaging, delightful, oh! so Gallic! The Kid from Paris: Jean Brassard Sings Montand has brought Paris to New Jersey! But don't wait too long to purchase tickets. The last show is Sunday, September 19, at 3 PM. Call for tickets today. It's an inexpensive vacation and one you'll remember for a long time! 
NATIONAL ARTS CLUB, JUNE 2010 
THE NAC ROUNDTABLE, 
by Chair, Linda Zagaria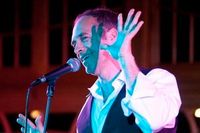 In June, word and image merged for Cabaret Français as we teamed with Le Cocktail Français to present "The Kid From Paris: Jean Brassard Sings Montand." With narration, songs, and theatrical vignettes, M. Brassard, accompanied by pianist and musical director Richgard Maheux, guided us through the life, loves, politics, music hall exploits, and cinema history of the legendary Yves Montand. Fresh from a tour of France and Belgium where the show earned rave reviews, Brassard opened with the spirited "La Chansonette," continuing with favorites such as "Sous Le Ciel de Paris" and "La Bicyclette." Other selections included the passionately seductive Sanguine (an ode to the zipper of a woman's dress) and the politically-charged "Casse-Têtes." Moving through the Grand Gallery with the grace of Fred Astaire (Quebec-born M. Brassard came to the US when he landed a scholarship with the Boston Ballet), he thoroughly captivated the audience with mime and monologue and a gorgeous velvety baritone. Closing with the immortal "Les Feuilles Mortes" and "C'est Si Bon," Jena Brassard's exquisite performance demonstrated an imposing level of professional artistry. You may wish to keep an eye on www.jeanbrassard.com to see what he's got in store. 
FRANCE-AMÉRIQUE 
by Sandy Prenois 
A PASSION FOR YVES MONTAND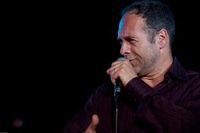 (Rolled-up sleeves and beret, a smile in the corner of his mouth, malicious twinkle in the eye… the kid from Paris, today, it's him. 
Twelve selections, narrative moments and a few theatrical vignettes is all it takes for the Quebec singer-actor Jean Brassard to celebrate again last night at the National Arts Club of New York the life and carrier of the tremendous Yves Montand. 
Jean Brassard offered a unique moment of sharing with an audience yesterday at the National Arts Club. Taking us on a journey from Paris to New York, encounters with Edith Piaf and Simone Signoret, our privileged passengers hearts were led to vagabond from small winding alleys to the grand boulevards. The sweetness of love, a bicycle ride, Autumn leaves and a dance that starts again… and a perfect finale: "C'est si bon". 
For now almost five years, Jean Brassard and his excellent musicians pay tribute to the bygone artist. They have performed in New York, Montreal, in Belgium and in Lille, being met each time with great success. In a little over one hour, this song and dance show, Montand-style, it is an opportunity for the younger generation to discover  to discover one of the great myths of French show business of the twentieth century and for his passionate fans, the chance to see him revived. 
From a very early age, Jean Brassard was rocked by the songs of this artist. His parents imparting their passion and "my father, his accordion", says he. And as it so happens for the show he gives a shot at playing the instrument… a success! He also plays the harmonica, dances, has fun, smiles… what a pleasure! At the piano, the fabulous Richard Maheux seems in heaven and the audience's eyes are twinkling. Artistic riches are not a common thing and beyond the wild applauds, delight is at its peak. 
Big friendly face, Mediterranean, a man who women fawned over but mostly an incredible singer and popular actor, Yves Montand is part of the cannon of great performers of the twentieth century. Born in October 1921 in Italy, Ivo Livi (his real name) grew up in Marseille in the south of France with his brother and his sister. His father Giovanni, a militant communist, wanted to flee the Italian fascist regime. In 1929, his family obtained their French nationality.  With a passion for movies, it is Fred Astaire and his tap dance numbers that fascinated the boy who was still a bit shy. "In 1938, he accepted the offer from a stage manager who was looking for someone to "warm up" the room and after three weeks of rehearsal and a change of name to Yves Montand (as a kid he played in the street and his mother Giuseppina would call him from the window: "Ivo, Monta!") he goes on stage in front of an audience that goes wild with applauds at the end of his presentation. The legend was born". – www.rfimusique.com, biographie. Interrupted by the Second World War, Montand's career started again in the Spring of 1941 never to be stopped again. He meets Edith Piaf at a decisive turn in his life, Jacques Prévert, Simone Signoret, Henri-Georges Clouzot who gives him a real opportunity as an actor, Arthur Miller and his wife Marilyn Monroe among others. Within a few years  he achieves the status of international star. He dies of a heart attack on November 9, 1991 in l'Oise in Senlis. Jean Brassard sings Montand, the Kid from Paris (Le gamin de Paris), is inspired by him and delivers wonderful moments of magic. To be continued! 
Co-written and co-directed by David Krueger and Jean Brassard 
Musical direction and keyboards, Richard Maheux 
WAZEMMES ACCORDION FESTIVAL, LILLE, FRANCE MAY 2010 
LA VOIX DU NORD – Northern France newspaper 
by Céline Croquette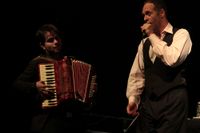 Quebecois singer-actor, Jean Brassard sings Montand, The Kid from Paris, surrounded by his musicians. Friday night, the Espace Malraux welcomed the Quebecois singer and actor Jean Brassard who came to interpret his show « Le gamin de Paris » (The Kid from Paris) taking us through the life of Yves Montand. 
A gift offered to an essentially feminine audience who came to listen to a voice. The voice of an artist who, since 2006, accompanied by three musicians, gives a moving homage to the actor now long gone, on stages all over the world, from New York to Montreal, from Belgium to Lille and La Madeleine. 
From a very early age, Jean Brassard was rocked by the singer's melodies, his parents will impart their passion. An inheritance he is he is flooded with. On stage, for the pleasure of his audience, he takes us through the story of this kid from Paris that was Yves Montand. For an hour and a half, Jean Brassard and his musicians, a pianist, a bassist and drummer swing and wake up the music hall era. The delighted audience will sing in chorus along La Chansonnette or La Bicyclette, many well-known, never out of fashion, irreplaceable melodies. 
An intimate show 
The room is filled with emotion for an intimate show, almost between friends. Jean Brassard will say: "We are lucky to be with you tonight, thank you for the gift of your presence." Finally, the song Syracuse is played. "That is my favorite", says a woman. Jean Brassard's melodious voice will carry high and strong the story of Yves Montand, saluted by an audience bursting in applauds. 
HELEN'S HIDEAWAY ROOM, JANUARY & APRIL 2007 
MONTREAL'S LA PRESSE 
by correspondant Richard Hétu 
Special collaboration, New York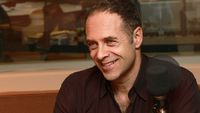 A Québécois revives Yves Montand in New York 
In The Kid From Paris, the Québécois Jean Brassard sings and narrates the life of Montand, interpreting a dozen of his songs. Photo Boyle Image 
Happy are the Quebecois who will be in New York Easter weekend. On Sunday, they will have the opportunity to spend a delicious moment in the company of a compatriot, Jean Brassard, who will present on that day an homage to Yves Montand in a Manhattan cabaret. 
Written and directed by Brassard and David Krueger, The Kid from Paris – Jean Brassard sings Yves Montand, has already earned the French Canadian dancer-actor rave reviews and a nomination by the MAC Awards 2007 honoring the best in New York's cabaret world. "Yves Montand was a first-class performer; so is Brassard," wrote Theater Scene Review seeing between the Frenchman and the Québécois "a good match". In an interview, Brassard, 48, prefers to talk about a sort of "osmosis". He grew up in Quebec City in a family where Montand was a favorite singer. His father played his music on his accordion, his mother sung La Chansonette and Le Gamin de Paris. 
As a teenager, he too had been seduced by the American dream, identifying with the fan of Fred Astaire and Marilyn Monroe's lover. And here he is, more than 20 years after having landed in New York, getting under Montand's skin to offer his first solo show. Until then, he had only been part of theater and cabaret groups. "I'm having a lot of fun", said Brassard, who first introduced "The Kid from Paris" at the Laurie Beechman Theater on 42nd Street. "This show makes me connect with my dad who had a lot in common with Montand. He grew up in a poor family where music was used to gather people. He was a bon vivant. When I'm on stage, I feel both of them with me." 
In January, Brassard did his tribute once more as part of a New York festival – Kabarett Fete – that represented artists from seven countries. It all took place at The Hideaway Room at Helen's where I was able to see Brassard master the stage. In "The Kid from Paris", Brassard sings and narrates Montand's life, taking on a dozen of songs, among which Les plaines du Far West, Syracuse and Incurably Romantic, while reminiscing on Yves' loves, from Simone Signoret to Monroe without forgetting Piaf. "It was Piaf who convinced Montand to put away his cowboy songs a while", says Brassard in the interview. "She said to him: you are made to sing love songs. He thought love songs were for women, seeing himself more as a comic, a fantaisiste. Later he became a pioneer of the political song. 
There are so many aspects to Montand's personality, his story is very colorful." Brassard enters the stage sporting a roguish hat, wearing a white shirt and black vest. When he sings, he doesn't try to imitate Montand's voice, but his experience as an actor and a dancer allows him to fully give life to his character. He is accompanied by four musicians, with Richard Maheux, a pianist from Thetford-Mines living in New York for about a year. The other musicians are from the New York area. Brassard would like to present his homage in Quebec where he is lesser known. 
THEATERMANIA.COM 
by Linda Amiel Burns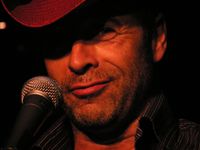 Karen Kohler is the producer of the first Kabarett Fete, a festival of the European Cabaret Songbook, running at Helen's Hideaway from January 23-27. This ten show festival features nine performers from seven countries dedicated to the authentic interpretation of the Great European Songbook. 
On January 24, Jean Brassard, a French Canadian from Quebec City, performed "The Kid From Paris" – the Songs of Yves Montand – co-directed and co-written by Jean Brassard & David Krueger with Richard Maheux on piano and accordion, Nick Cudahy on bass, Will Sellenraad on guitar and Sean Dixon on drums. 
Karen Kohler introduced Steve Ross to the stage and he opened the show with a virtuoso piano instrumental called "Homage to Piaf" which set up this marvelous evening of French songs. Steve used Brassard as a guest artist in several shows and said it was his idea for Jean to do a show based on the songs of Yves Montand. Steve introduced the star of the evening, who entered from the back of the house, greeting the audience, wearing a white shirt, black vest and jaunty hat. 
The handsome Brassard began with the lively "La Chansonette" both in French and English and he won the crowed over with his first song. Singing a program of obscure material, particularly in French, can be difficult for an audience but Brassard managed to fully communicate his songs, while interweaving well-written patter on the life of Montand. 
We learned that Montand was born Ivo Livi in Monsummano Alto, Italy in 1921 and, shortly after his birth, the family moved to France. He grew up in Marseille where he dreamed of all things American, particularly Fred Astaire and cowboys. This led to Brassard to put on a red cowboy hat and sing " Dans les Plaines du Far West" (In the Plaines of the Far West). 
Brassard told us that in 1944 Montand was discovered by Edith Piaf in Paris who made him part of her act, becoming his mentor and lover. On the piano was a treasured accordion that belonged to Brassard's father and he handed it to his pianist to accompany him on "L'amour Medley" consisting of several French love songs including "Mais qu'est-ce que j' ai" (What's Wrong with Me?) written by Piaf. The accordion accompaniment added an extra romantic Parisian feeling to the material. For the song "Syracuse/Durango" Brassard sat on a stool and surprised us by playing the harmonica. 
In 1951, Montand married the actress Simone Signoret and they co-starred in several films throughout their careers. In 1951 he starred in the film Let's Make Love with Marilyn Monroe (while she was still married to Arthur Miller) and this well-publicized affair, nearly broke up his marriage. One of the highlights of Brassard's show was the duet from that film called "Incurably Romantic" (Cahn/Van Heusen) singing both parts, as Montand and as a sexy and breathy Marilyn. 
There were many charming moments throughout the show and one in particular when he recalled his parents dancing together in their youth to "Dansons la Rose" (Roses of Picardy). Brassard danced around the stage gingerly holding his mother, Colette, in his outstretched arms telling us that she was "a big woman." For the Encore, Brassard said that he would sing "one that we all knew" and he finished the show with the familiar French classic "C'est Si Bon" – a perfect ending to this exciting journey in song of the music of one of France's best known entertainers. 
Yves Montand was a first-rate performer and so is Brassard, making this a good match. Throughout the evening, Brassard demonstrated his versatility going from dramatic songs one moment to comedy the next, easily displaying a sense of fun with a twinkle in his eye. You can tell that Brassard is a trained dancer by the graceful way he moves about the stage using his fine voice to perfection and singing with passion and conviction. After seeing this charismatic showman, you will become a fan. So check his website to see where he is appearing next and go! 
98,5 RADIO, Montréal 
by Richard Châteauvert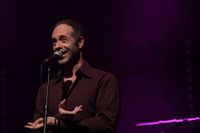 Excellent show in every way: Brassard's voice, his musicians, his translations, the patter between the songs, the links he establishes between the US—the cowboys, Broadway, Marilyn Monroe, etc…