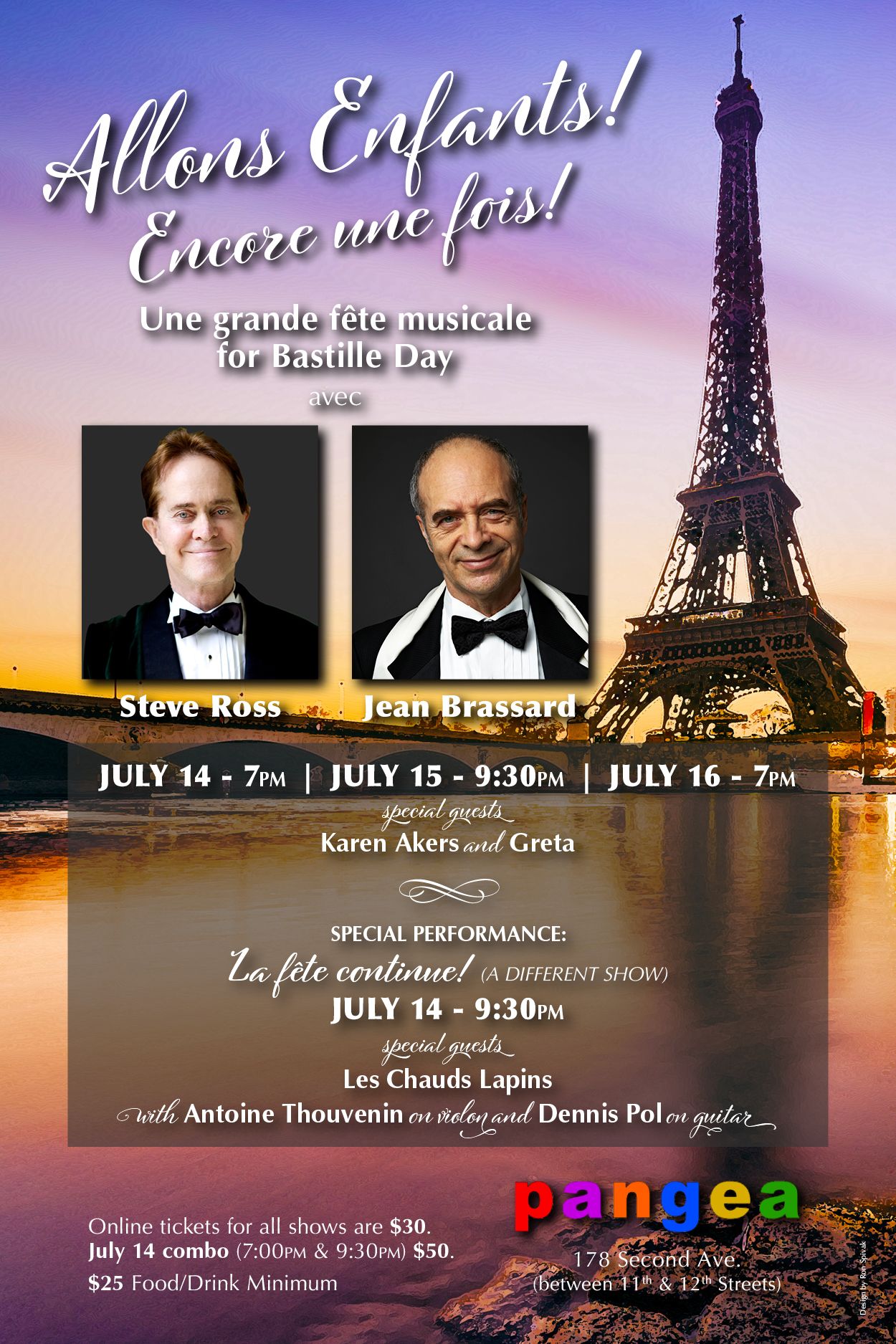 happy to announce that last year's Bastille Day celebration of Allons Enfants! -created and performed with my great partner Steve Ross- having been such a triumph, we are joining musical forces again to reprise this invigorating show, now titled Allons Enfants – Encore une fois!  Karen Akers will be with us once more along with special guest Greta. This time for a whole weekend! (July 14, 15 and 16) 
There will also be an added performance of La fête continue! on July 14th at 9:30pm where we'll be joined by the duo of Les Chauds Lapins, as well as Antoine Thouvenin on violin and Dennis Pol on guitar, to extend the party into the night. 
Come celebrate with us in what may well be the beginning of a new Summer tradition. Last year's tickets flew out of the box office in no time. Get yours now!
Au plaisir de chanter pour vous,
JEAN
For the love of music / Pour l'amour de la musique
Keep supporting artists Continuez à soutenir les artistes
Enter the amount you wish to donate
Une nouvelle chanson de Jean Brassard? 
-Non, dit-il. Ce n'est pas une chanson mais bien une épopée des temps modernes. L'histoire d'un combat de catch-lutte-wrestling du chanteur-compositeur-interprète aussi célébré pour ses commentaires sur le WWE Network. Une folle aventure relatée comme dans les longs récits poétiques d'antan qui racontaient les exploits de héros où interviennent le merveilleux, l'audacieux, le magique avec multiples rebondissements. 
Une signature ludique de Monsieur Brassard, sous l'étiquette d'une de ses phrases les plus loufoques en tant que commentateur: Quelle épique époque opaque!! 
Couverture: DG Krueger 
Refrain: 
Quelle épique époque opaque 
Quelle opaque époque épique 
Ça défonce dans la barraque 
Quelle épopée fantastique 

Paroles et musique Jean Brassard 
Arrangements: Jean Brassard et Richard Maheux 
Produit par le studio Brooklyn Vibes en collaboration avec Small World Network. 
Au saxophone: Miralva Melo 
Guitare, basse électrique : Richard Maheux 
Tout le reste: Richard Maheux & Jean Brassard 
Avec les voix de Marcelo Rodriguez, Shun Yamaguchi, Marco Alfaro, Meng Ai, Calvin Knie, Zhan Smagulov, Obaid Kadwani ET Raymond Rougeau. 
@all rights reserved
I am thrilled that  Richard Maheux was inspired  
by my song to create this lovely video....
Ravi que Richard Maheux a été inspiré
par cette chanson pour créer cette belle vidéo 
from the album / de l'album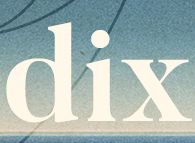 Get your CD